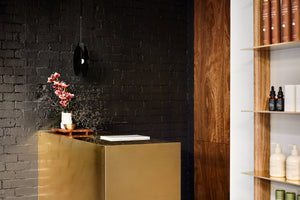 Beauty or Massage Therapist
Students or Recent Graduates
Who are we?
Just like a comma in a sentence, a momentary pause. Comma is about a moment to breathe, regenerate, find calm and begin again. We understand lives are busy, we're not here to cure the world, but rather understand the importance of design, smell, touch and all the things that make people feel alive. We exist for anyone looking for the sublime in stillness.
The Role
We are looking for students (Diploma of Beauty or Remedial Massage) or recent graduates to join our team. We will foster and train you in-house by a Musculoskeletal Therapist with over 10 years experience to further your development and skillset. This is a dream opportunity to learn from the best, whilst working and learning on the job in a supportive environment. We are dedicated to nurturing your skills and watching you grow as part of our team. It's the perfect entry level position for anyone hoping to join the industry and continue their growth as a therapist through on-site learning and development at no cost, whilst receiving a remuneration package.
What you need
- Minimum Certificate 4 in Beauty or currently enrolled in Certificate 4 or Diploma of Remedial Massage.
- Experience working in a team and fast-paced environment.
- Exceptional customer service, communication and interpersonal skills.
- Excellent personal presentation and hygiene standards.
- Flexibility with your availability.
- Appetite to learn and challenge yourself.
Qualifications
- Diploma or Certificate 4 in Beauty or Massage.
- Either a graduate or current student in Diploma of Beauty.
- Currently enrolled in Certificate 4 or Remedial Massage.
Perks to this position
- You don't need years of experience to work in a beautiful and busy spa.
- Expedite your abilities with exposure and one-on-one training from the best.
- Offering extensive hands-on training and no expense. Growth and development opportunities within the business.
- Flexibility around study hours.
- Ability to learn and work across many aspects of a successful spa business, including potential to work across Front of House duties too. - Once trained, guaranteed full work days.
---
{formbuilder:49993}