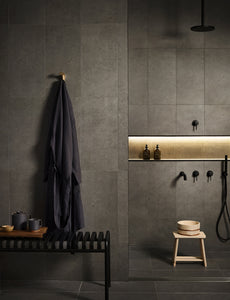 BOUTIQUE BATH HOUSE & SPA
Bathe, soak, wash, sweat, surge and be immersed. Amidst the rush of city life we invite you to experience the healing power of water.
BOOK NOW
Comma Bath house is a phone-free zone
While mobile devices serve their purpose outside our walls, they serve as merely a distraction here, and one that we hope to free you from. We invite you to embrace the technology detox and the peace that ensues.
Our space is created for mindful sharing
As we welcome you to connect with yourself and others, we've considered our environment for privacy and comfort. With this in mind, only six guests will enter the Comma Bath house facilities at any given time. And while towels will be dropped, and all bodies will be lauded, bathing suits remain obligatory.
Go hot, and go cold
To get the most of the experience, we suggest you oscillate between hot and cold treatments. Ease those weary limbs in the Mineral Hot Tub, sweat those toxins in The Sauna, and awaken the cells in the Pail Shower—a boundary-pushing, totally awakening rush of blood to the head.